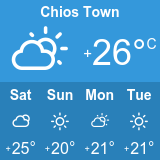 Chios has an excellent, mild Mediterranean climate, characterised by long sunshine all year round, small seasonal changes in temperatures and lack of extreme weather phenomena in winter or summer.
In Spring temperatures fluctuate between 16 and 24 degrees Celsius. During the summer, the average temperatures fluctuate between 25 and 30 degrees Celsius, while the "meltemi" winds mitigate the warm weather.
Autumn is long and mildly hot, with the average temperatures fluctuating between 13 and 20 degrees Celsius. The weather is usually suitable for activities like walking, but also for swimming too.
Winter is always mild in the Aegean Sea. The rain, even during winter, does not last for long and the sky clears quickly. Even in January, and the first half of February, sunny days are usual, a period known as "Halcyon Days" since antiquity.
Passports and visas
Find out whether the issue of a visa and a passport is required for your country of origin and undertake the necessary actions in time.
For more information visit the website of the
Greek National Tourism Organization: GNTO
,
or the
Greek Ministry of Foreign Affairs.
Health Care
Skylitzeion General Public Hospital, is in Chios Town, on the road to Vrontados. There is also the Health Care Center at Pyrgi as well as local medical clinics and private doctors.
Visitors coming from European Union (EU)member-states wishing to receive the necessary healthcare should have the European HealthCard or another legal Community document, issued by their competent insurance authority. Those whose country is not a member of the European Union, in order to receive the necessary healthcare should consult their insurance authority before they travel.
Chios General Hospital (Skilitseio)
Telephone: 22713 50100, Fax: 22710 44311
Chios General Hospital comprises of the following clinics: pathological, cardiological, neurological, respiratory, pediatrics, surgical, gynecological, orthopedics, urological, ophthalmological etc. The hospital also includes: Radiation Laboratory, Microbiological laboratory, Biochemics and Technical kidney Unit.
Pyrgi Health Center
Telephone: 22713 51000
The Pyrgi Health Center is administered by the Chios General Hospital. The Center provides First Aid services.
| | | |
| --- | --- | --- |
| | | |
| | | |
| | | |
| | | |
| | | |
| TOURIST OFFICE OF THE MUNICIPALITY OF CHIOS | | |
| | | |
| | | |
| NATIONAL CENTRE OF EMERGENCY HELP | | |
| | | |
| | | |
| | | |
| GAS STATIONS (INFORMATION) | | |
| | | |
| | | |
| | | |
| | | |
| CHIOS ASSOCIATION OF PEOPLE WITH DISABILITIES | | |